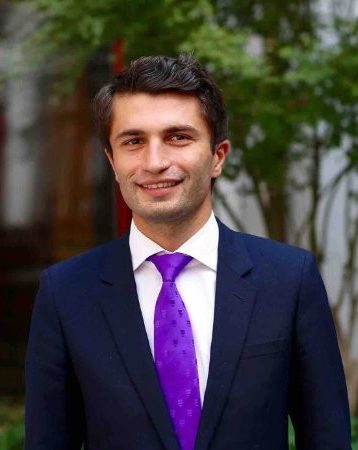 Priviously based in London, UK, where he moved after a year in Tsinghua University, being part of an inaugural Schwarzman Scholars cohort in Beijing. Before Beijing, Rza was a private banker at ANDBANK, Principality of Andorra. Rza was also the Deputy Secretary General of Nizami Ganjavi International Center, a platform which joins more than 100 former and current heads of states, as well as many opinion leaders around the world.
After receiving his Master of Arts in Diplomacy in 2011 at the Azerbaijan Diplomatic Academy, Rza is pursuing his PhD in Economy at the Academy of Public Administration. He won the prestigious Good Will Ambassador Award from the US Congress and Children Uniting Nations in recognition of international support to the welfare of children and the fight against trafficking. He is the Special Envoy of "Children Uniting Nations", World Academy of Arts and Sciences – Associate Fellow and a very active participant in Club of Rome and Club de Madrid meetings. He was previously a financial adviser, private banker at Credit Andorra SA, Andorra La Vella, Principality of Andorra.
He used to be the development officer at the Azerbaijan Diplomatic Academy, Baku; Youth Delegate from the Republic of Azerbaijan to the United Nations, during which time he had delivered a speech at the UN General Assembly and worked on the UN Resolution on Policies and Programs Involving Youth. He was also a Development Officer at the American University, School of International Affairs, Washington DC. Executive Assistant to the Dean of the Azerbaijan Diplomatic Academy, Baku Intern at the Embassy of the Republic of Azerbaijan in the USA, Washington DC, Research Assistant at the Atlantic Council, Washington DC, focusing on the energy issues, Azerbaijan, Turkmenistan and China.