December 16 , 2020
Ambassador of Colombia to China: Young leaders are the present too, and we should rise on the occasion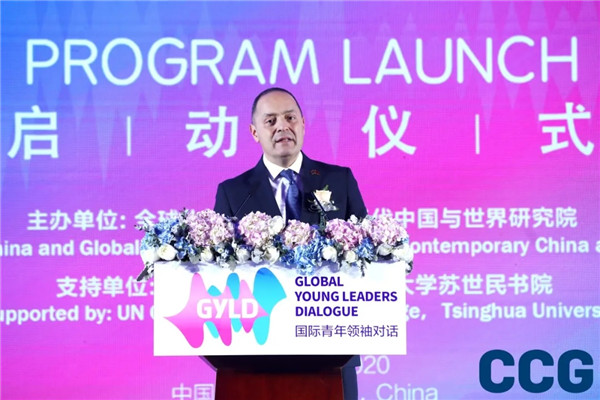 On December 15, 2020, Luis Diego Monsalve, Ambassador of Colombia to China spoke at the launch of the Global Young Leaders Dialogue (GYLD) Program. The following is an abridged transcript of the speech, which has been edited for length and clarity.
Distinguished Deputy Director Wu, dear colleagues and speakers, dear Henry, dear Mabel, first of all, allow me to express my gratitude to CCG team for this invitation for participating in this important event, and of course, for the outstanding role that it plays in reaching the debate on the most important global issues.
CCG, congratulations. Today it is an honor to be sharing with you my thoughts regarding the launching of the CCG new program, Global Young Leaders Dialogue, which will definitely create a comprehensive platform to understand and enhance the cooperation in globalization and global governance, based on a multicultural and multidisciplinary approach. Young leaders are not the future anymore. Each day, they embody the present and accordingly their voice needs to be heard. They have been demonstrating their leadership capacity worldwide, where you can find nowadays many of the most influential leaders to be under 45. For instance, President of Colombia, Iván Duque, who is 44, is one of those young leaders who is transforming the realities of our people, overcoming these challenges and turbulent moments. Since his inauguration, his government has been devoted to young people and the transformation of our society. As an example, the average of more than 30 deputy ministers is 37 years old, and of the minister, the youngest is around 33 years old.
Colombia is a young society, in which 73 percent is under 45, where most of them are committed with entrepreneurship, creativity, innovation, tech orientated, looking for development and progress. In this framework one of the flagship programs of President Duque is the orange economy, that represent 3.4 percent of the total GDP, and the principle of his government, legality, entrepreneurship and equity over a solid base of sustainability and innovation, embraced this new concept, in which young people are in the core. His ambitious plans are that we can understand the success of our economy consists of investing in the talent of our citizens and taking advantage of the entrepreneurial potential of the country's jobs in the context of the fourth industrial revolution. However, this is not exclusive of Colombia of course, instead, is a trend in which the world is embracing new ideas and realities that will define the future.
2020 is the proof and breaking point of what we are discussing today. The nature and our planet shook up our system and advices us of a need of change. Nowadays we are all wondering how the world will be like in the post-pandemic era. COVID-19 is more than a health crisis and is restructuring our knowledge and understanding of everything. It is actually renewing the world economic and social order in an unprecedented way, creating new challenges for humanity. How the world is reaching and facing this crisis and how young people view, think and respond to global issues and challenges will determine the face of the future world.
In this context, please let me talk to the young leaders and to the world about my views of how we need to work jointly on this matter, and I hope, of course, this will be useful for the Global Young Leaders Dialogue. First, governments, advisors, academy, companies and international organizations should be conscious of the need of empowering young people. This means to allow them to use their talent, to be agents of change and let them be part of the discussions of the major worldwide challenges in decision making positions, including the formulation and implementation of public policies.
Second, to identify together with young people major issues we need to face as humankind, for example: climate change, inequality, sustainable development, universal access to education, among others, in order to define common strategies, because they need to begin exercising their leadership in the present to do it in the future.
And finally, last, but not least, there is no one more capable than young leaders, who were born and raised in this era, to understand the technological revolution. They should be in the core of the entrepreneurship and innovation programs to generate new solutions to the upcoming challenges. As I mentioned, young leaders are the present too, and we should rise on the occasion. It is in our hands as leaders to be up to the task, and to meet the difficult challenge to ensure a smooth transition for them. Thank you very much.