September 15 , 2021
【GYLD Talk】LIU Jichen: Reducing food waste in an interesting way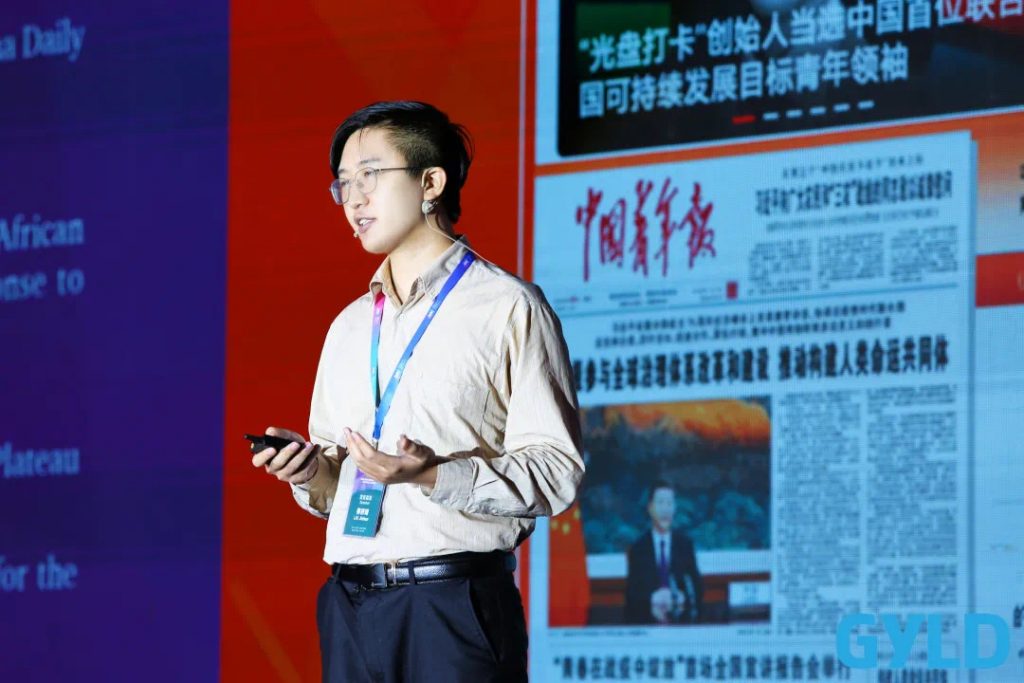 On July 30, the Center for China and Globalization (CCG) and the Academy of Contemporary China and World Studies hosted the 2021 annual forum of the Global Young Leaders Dialogue (GYLD) in Beijing. Around 140 young representatives from various walks of life participated in the forum, exchanging views on topics such as sustainable development, public health, the joint fight against the pandemic, scientific innovation, and an open world economy. Participants also shared stories of their experiences in China and exchanged views on the strengths and responsibilities of young people regarding issues such as climate change and environmental protection.
LIU Jichen, Founder of Clear Plate, delivered a speech at the GYLD Talk during the forum. The following is an abridged transcript of the speech, which has been edited for clarity.
Thank you very much. Good morning, everyone, I am Jichen Liu from China. I'm working on food waste issues in 2018. I founded an app called Clear Plate. This is an app that aims to reduce food waste by using AI technology. Actually, food waste is a global issue. Globally, one in third of food produced in the world is wasted. And in China, the food wasted is enough to feed nearly 17 million people per year.

So in year 2020, China has published many social campaigns to curb food waste. But the original ways are more like slogans and posters. These kinds of methods may be lack of interest to the young audience, so we found another innovative and relaxing way to curb food waste.

If you clear plates after a meal, you can take a picture of your plate and our AI algorithm will identify whether waste or not. If you do not waste any food, the AI algorithm will identify you with credits, which can be used to redeem gifts or make donations to charity meals. For example, for every 100 credits you donated to certain project, a company will donate 1 yuan to this project. So in this way, the food you saved will become charity meals for people in need. At the same time, people who save the food will be provided spiritual and material reward for the people reduced the food waste of the society.

Actually, this idea was inspired by an experience when I was eating in a restaurant. I found that they offer scorecards for customers who do not waste food and I found that this method truly works. But the scorecard is a burden for customers to carry and they might forget that. So it just inspired me that if there is an online app which could help preserve it, so it can propel much more restaurants to do that. Consequently, I think this kind of incentive can be amplified through Internet application. That's why we implemented Clear Plate app.

You can see from our operating model, we are providing individual benefits and societal benefits, in this way we are encouraging people to reduce food waste through a more relaxed and interesting way. Our mission is to inspire and empower everyone to take actions against food waste. Through our efforts, we hope that we can encourage people, especially the younger generation to cherish food and to embrace the sustainable lifestyle.

Last year I was quite honored to be nominated by United Nations as China's first young leader for the SDGs. This is a flagship initiative head by Office of the Secretary-General's Envoy on Youth of the United Nations, as they recognize 17 young changemakers from different countries on a biannual basis. So as a young leader for SDGs, we are invited to provide our efforts for the engagement of the realization of sustainable development goals through our existing networks and the opportunity of cooperating with the United Nations.

So I hope that we can prepare clear plates, to not just China but many more other countries in the world to achieve the mission of reducing food waste globally. I think this kind of method can be useful and amplified to many other countries, because not wasting food is a lifestyle that everyone should follow regardless of nationality. Right now, we have 5 million users, actually it is still fast growing. I think that from our example, you can see that sometimes the trigger is quite tiny. For instance, this idea was just inspired by an experience when I was thinking in a restaurant. You can see these problems as challenges and chances, it is also where changes can happen.

There are more opportunities like this, and we could set up a social enterprise, using commercial ways to resolve social problems and to retrieve righteousness and profits at the same time. I think this kind of approach is coming in the future because our young generation is more willing to choose career in line with their ambition of SDGs to retrieve their potential, and such social enterprises give a way to reach their full potential and not to require the leaders to sacrifice their careers.

I think more young people will choose careers as social enterprise and to achieve sustainable development goals and their own success. Just as the Secretary Gutierrez said, we need the drive and full involvement of young people to achieve the global goals. I think the time is now, the answer is quite simple. Engagement is a key for change, Thank you.
Note: The above text is the output of transcribing from an audio recording. It is posted as a reference for the discussion.