December 15 , 2020
Vincent Price speaks at the launch of the Global Young Leaders Dialogue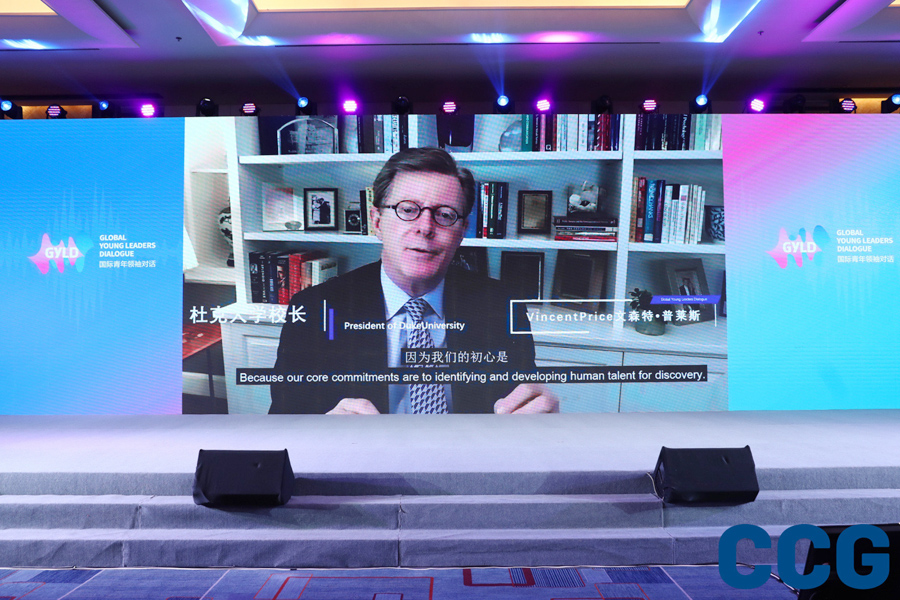 On December 15, 2020, Vincent Price, president of Duke University spoke at the launch of the Global Young Leaders Dialogue (GYLD) Program. The following is an abridged transcript of the speech, which has been edited for length and clarity.
---
Hello, as the president of Duke University, I'm delighted to participate in this year's CCG conference, focused on the vital issues of global governance, global trade, public health, poverty, globalization, multiculturalism, and other important issues. I'm particularly pleased to meet all of you as you represent some of the brightest and boldest thinkers in the academy today. I only wish we could be together in person in China, the country I've had the honor and pleasure of visiting many times over the course of the past decade.
As you may know, Duke's aspiration is to be a truly global university. We recognize that we're living in an increasingly interconnected world. And if we want to train the leaders for the future, and make the discoveries that will improve lives. Our perspective will have to be broader than our own backyard. A decade ago, we founded Duke Kunshan University in partnership with Wuhan University. With that goal in mind, we had a vision for a western style, undergraduate and graduate institution that could provide rigorous academics and support diverse research. We had a vision for a new integrated curriculum that would adapt the finest traditions of Liberal Arts to the global needs and opportunities of the 21st century. We had a vision for an entirely new type of institution here in China. It would be imbued with the same ambition and drive for educational leadership that has propelled Duke University along its impressive trajectory since our founding.
Now, overall, this experience has been a tremendous success and promises to have an even brighter future in the decades to come. Nevertheless, you may not be surprised to hear this. There have been sceptics here in North Carolina and my travels around the world. I still get the question, somewhat frequently, 'Why did Duke come to China?'. A first answer to this question is simple. Opportunity. Duke came to China because we saw tremendous opportunities for valuable research and business partnerships and even more vital new avenues for cultural understanding. Duke Kunshan university is a doorway into modern China for the Duke University research community. It's also a doorway into innovative research collaborations for the Chinese who conduct research there. Forging stronger bonds between our university and Europe and the dynamic research ecosystem in China will expand what we are able to accomplish together in the lab and in the field, discoveries that we'll be able to make for the betterment of the world.
Secondly, Duke came to China because we understood that it offers a rich laboratory for innovation in teaching and learning. Our students in Kunshan have a chance to pursue a truly cutting-edge curriculum, when informed by the latest technology and taught by leading experts in Globalization, STEM and in Liberal Arts. At the same time, our innovations in Kunshan can help perform the future of our curricular programs back at Duke. And indeed, that's been our experience and our expectation, moving forward.
Above all, Duke came to China, because our core commitments are to identifying and developing human talent for discovery in the service of human progress, we seek to empower the brightest minds to find solutions to the world's most pressing challenges.
In the final analysis, what makes an institution of higher learning world-class is world-class people. And there are so many world-class thinkers here in China. People of diverse talents and diverse perspectives who come together whose talents are combined and whose perspectives to help generate new ideas, new modes of observing and understanding of the world, new means of designing and building and teaching and healing. We know there is limitless talent around the world and in China, and we believe that the university in Kunshan, one that seeks and promotes innovation and the integration of knowledge will be a very strong draw for world-class students.
The early success of this effort demonstrates that we have good reason to be confident. China is the No.2 economy in the world with a broad and a deep pool of young talent, including all of you watching today, and we are so very excited to explore new opportunities for engagement in the years ahead.
Now the launch of this new venture comes at a time, unfortunately, increasingly strained Sino-American relations. While our success today has lessened the ranks of skeptics in this enterprise, current trends leave others unconvinced. In particular, there is concern that notwithstanding the guarantees we've received, our faculty and students will not enjoy the unfettered open exchange of ideas, so critical to a liberal education, and so necessary to the sort of vibrant intellectual discovery we see. So far, I'm pleased to say our experience has been generally positive and we worked very hard to ensure that all our efforts will be rewarded by deep and lasting success. Indeed, our view is that precisely at times of tension or discord, the need for collaboration and cooperation among the great nations of the world is greatest. That is ultimately the goal of Duke's efforts in Kunshan – to deepen our two-way relationship with academic community in China.
We recognize that there are few global problems. The solutions will not require closer US-China cooperation, and we have so much to learn from one another in the years to come. Our hope is that Duke Kunshan can draw us even closer together and then we'll have many opportunities for collaboration. I hope to work closely with all of you to that end. Thank you, and very best wishes, for a successful conference.