May 07 , 2022
GYLD calls for wisdom and power of youth for global development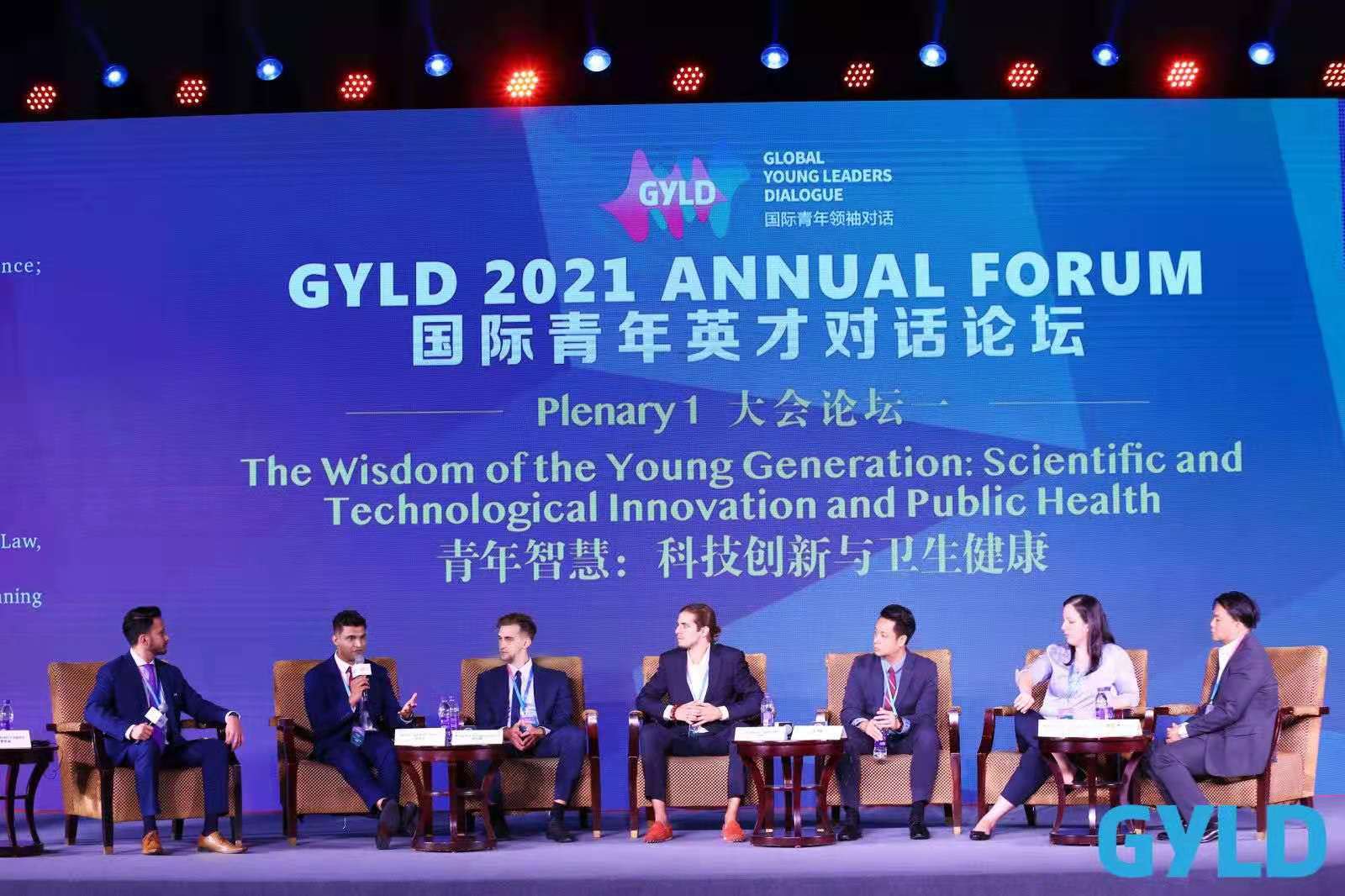 After three years in China, Anna Dotsenko from Russia feels there is a shortage of channels for broadcasting information from China to the outside world.
"An innovation-led manufacturing miracle has unfolded in China over the past half century," said the project manager with an international innovation research institute in Huangpu District of Guangzhou, Guangdong Province. She thinks many people outside China are only narrowly aware of the current situation in the country.
Dotsenko has considered shooting videos to introduce China's numerous innovative fields, the largest laboratories and incubators, and hi-tech enterprises from a foreigner perspective.
She submitted the proposal to the WiseDemo Campaign, an international effort launched in January as part of the Global Young Leaders Dialogue (GYLD) program. Many participants like Dotsenko have contributed innovative solutions to global challenges via the platform.
GYLD was jointly initiated by the Center for China and Globalization (CCG) and the Academy of Contemporary China and World Studies (ACCWS) under China International Communications Group, with the aim of building a communication, education and professional development platform for achievers under 45 with diverse regional, cultural, disciplinary, and professional backgrounds across the globe.
This year, major themes of WiseDemo Campaign include open cooperation and interconnectivity, poverty reduction and inclusive development, innovation drive and digital economy, climate change and green development, the COVID-19 fight and public health, focusing on facilitating exchanges to build a community with a shared future for global development, and making the most of the kinetic energy of youth, according to its official website.
Officials, researchers and professionals have been invited to lend their expertise and guidance to the proposals submitted, the top 10 of which will be revealed and displayed at the GYLD 2022 Annual Forum.
Dotsenko hopes her efforts will serve as a bridge between Chinese and foreign audiences. "As a result, overseas audiences can gain a better understanding of China's all-encompassing innovation. Chinese enterprises are expanding overseas cooperation areas, and the level of international exchange is rising," she told Beijing Review.
Addressing concerns
Engaged in international cooperation in the fields of education, culture, science and technology, Dotsenko said she often needs to explain China's development progress to other foreigners.
"For the first time in China, I saw new-energy trams, which are now used in Huangpu," she said, admitting she is still surprised by that, even after three years. That also inspired her to explore channels to tell people overseas that China has become a different country to the one captured in stereotypes.
Hendy Yuniarto, an Indonesian lecturer at Beijing Foreign Studies University, wants to make more reports and videos about poverty alleviation in China, and he plans to invite students from different developing countries to participate in the project.
"I can feel the harmony in life in multiethnic Xinjiang Uygur Autonomous Region, which demonstrates that even though we are different, we can live in peace," he said in his proposal, while detailing his experience in Xinjiang and the reason why he would like to be a storyteller of China's achievements in poverty alleviation.
Many participants also mentioned public health issues in their proposals. For example, Damarcia Carlos Moreno, a 27-year-old postgraduate student from Guinea-Bissau, proposed establishing a regional or global platform for young people to share their feelings, experiences and concerns during the pandemic. At the same time, the platform will collect and publish information including medical resources.
Misbahul Ferdous, a 39-year-old Bangladeshi doctor at the Beijing-based Fuwai Hospital, an affiliate to the Chinese Academy of Medical Sciences, has proposed addressing concerns about people with post-COVID-19 syndromes.
"Even being cured after 14 days or 21 days, some may still have some symptoms that continue for at least the next 10 years," Ferdous told Beijing Review, adding that he suggests building a global health corridor so as to reduce COVID-19-related diseases in Belt and Road Initiative participating countries, promote exchanges on treatment protocols and increase COVID-19-related health facilities in many countries.
The proposal also recommends establishing more telemedicine services and a COVID-19 clinical data cloud system for hospitals in Belt and Road Initiative participants. "I believe global health needs joint effort with many countries together and make all the organizations cooperate in one platform," Ferdous said. He also noted the Belt and Road Initiative proposed by China provides a common platform to improve capacity for handling regional public health emergencies through information sharing.
So far, a total of 30 hospitals from 10 countries have showed interest in joining in the project, he added.
Youth is power
Yu Yunquan, President of the ACCWS, encouraged WiseDemo Campaign participants to contribute ideas and suggestions to improve global governance and solve development challenges. He said young people should make the most of their unique role in international exchanges and cooperation, propose innovative and practical solutions, build consensus on global development, and make global governance more just and equitable with their wisdom.
Young people are our main hope for future development, Liu Hongwu, Director of the Institute of African Studies at Zhejiang Normal University, said during an online event promoting the WiseDemo Campaign.
Ferdous believes in youth power. He recalled that when he became a doctor dedicated to cardiovascular care in Fuwai Hospital, there was no health cooperation project for Belt and Road partners. "We started such a project with only five countries in 2018. Now, much cooperation has been conducted among participants of the initiative," he said. "For the youth, the sky's the limit. We can achieve the big vision with a big action plan."
"However, up to now, the voice of youth is still less heard in global governance", Mabel Miao, Founder of the GYLD program and Secretary General of CCG said. The international community will benefit from the innovative power of young people keen on participating in global governance, she added.
"Participation in the WiseDemo Campaign is relevant in today's changing world, and also helps strengthen international cooperation," Dotsenko said.