April 15 , 2021
2021 GYLD China Tours' First Stop: Guizhou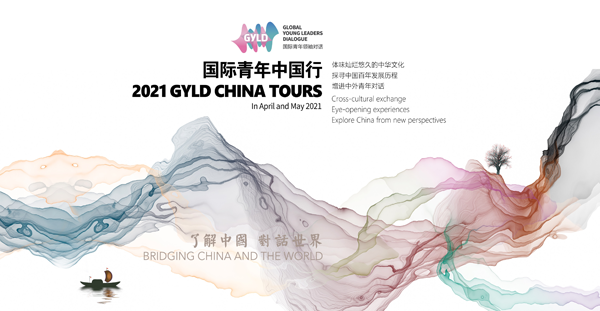 On April 16, young people based in China from various countries and backgrounds will travel to Guizhou province, the first stop of the 2021 GYLD China Tours. They will visit Guiyang, Qiannan and Zunyi to interact with the local people and explore Guizhou's development and opportunities in achieving the 2030 Sustainable Development Goals (SDGs), as well as focus on global issues such as poverty reduction and ecological protection.
Focusing on global issues, pooling young wisdom
In recent years, Guizhou has been actively promoting the realization of the United Nations 2030 Sustainable Development Goals, innovating and developing smart cities in the era of big data, and developing its infrastructure. Guizhou has made remarkable achievements in ecological protection, poverty alleviation, which have been recognized by the international community. The young people will have the opportunity to find answers to the question of how Guizhou has contributed to global sustainable development.
The young people will visit the world's largest single-dish and most sensitive radio telescope, the Five-hundred-meter Aperture Spherical radio Telescope (FAST) acclaimed as the China Sky Eye in Guizhou to explore the opportunities for international scientific and technological cooperation.   They will also visit the National Big Data Comprehensive Pilot Zone Exhibition Center to learn how Guizhou uses digital economy to carry out targeted poverty alleviation and deliver benefits to the local people.
A visit to Huangguoshu Waterfall, Balinghe Bridge and Embankment Linghe Guizhou Bridge Science and Technology Museum will offer them a new perspective to understand the development of ecological protection and infrastructure construction in Guizhou. The young people will also visit Huamao Village in Zunyi to explore the sustainable development of green villages in China.
Exploring Chinese culture in Guizhou
The diverse itinerary of this China tour in Guizhou aims to provide rich experiences, allowing the young people from overseas to explore the life of local people, learn more about China, get to better appreciate the splendid and time-honored Chinese culture, and explore modern China's century-old development history.
In addition to visiting international venues such as the planetarium and science and technology museum, the young people will pick, roast and taste tea in Yunhai Tea Farm, learn about traditional Chinese tea culture and the development of China's tea economy through communications with local people, then provide advice on promoting the development of China's tea trade in the west. They will also experience folk customs in Chinese villages by visiting the Huamao Village and local markets and learn about the culture of ethnic groups by tasting local ethnic delicacies. The young people will also visit the Zunyi conference site, learn about China's historical story.
Inspirations from young people for global dialogue
The participants of this tour are young people from different countries such as Brazil, Cameroon, China, Germany, India, South Korea, the UK and the US and from different professional backgrounds. The young people will promote exchanges and understanding between Chinese and foreign young individuals on relevant topics through experiential field visits and various exchange activities, so as to enhance their understanding of China, get to know each other and carry out global dialogue. Meanwhile, the young people will give full play to their role and bring together more international and youthful innovative thinking and diverse driving forces for addressing global issues.
The 2021 GYLD China Tour is part of the Global Young Leaders Dialogue (GYLD) program that was launched by the Center for China and Globalization (CCG) and the Academy of Contemporary China and World Studies (ACCWS). The "GYLD China Tour" aims to build a platform for global young people to carry out interesting and distinctive visits and exchanges in China, explore China's beautiful natural landscape and  rich culture, and make due contributions to  global development and realizing the United Nations Sustainable Development Goals. Going forward, the 2021 GYLD China Tour will invite more young people from different countries to join the endeavor.