May 20 , 2021
Second Stop of the 2021 GYLD China Tour: Guangdong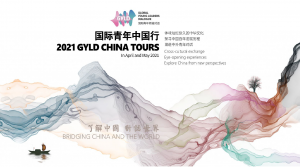 From May 21 to 25, young people based in China from various countries and backgrounds will travel to Guangdong province, the second stop of the 2021 GYLD China Tour. These young people will visit Guangzhou, Dongguan and Shenzhen for in-depth exchanges with local young people, government officials, scientists and entrepreneurs, learning about Lingnan culture and innovations of the Guangdong-Hong Kong-Macao Greater Bay Area, as well as exploring new opportunities to fuel future globalization.
Appreciating the Charm of Lingnan and Exploring Cultural Preservation
In order to fully display the essence of Lingnan Culture, diverse activities of this China Tour in Guangdong provide a chance for young people to immerse themselves in the real life in Guangdong, Hong Kong and Macao, and appreciate Chinese folk culture.
The young leaders will also pay a visit to the Cantonese Opera Art Museum and Yongqing Fang, where they can enjoy Cantonese opera performances, try on opera costumes and learn how to sing opera. While learning about intangible heritage and traditional culture in Lingnan, the young leaders will explore heritage protection in the process of urban development.
In Shipai Town, the group will watch a lion dance performance and experience the art of folk culture in the lion dance. Immersed in the open and inclusive Lingnan culture, young people will communicate with relevant staff to give full play to the strength of youth in promoting cultural exchanges and protecting intangible cultural heritage.
Experiencing Digital Life and promoting Global Communication
This trip features a visit to WeChat headquarters. Experience of Westore shopping and digital mailbox will offer the young people a new perspective to understand how technological innovations promote social progress and help to realize the sustainable development of cities and communities.
To explore the global development of private enterprises in China, young people will visit the Huawei Xiliu Beipo Village by electric train and discuss with Huawei senior executives. They will also visit the production line of Guangdong Topstar Technology to see products "created in China".
Technological progress can improve governmental services. The young people will get a chance to simulate government management in the Nanshan District Administration Service Center, where they will experience innovations in government services, witness service-oriented governance, and see how governments make use of refined management tools.
Nurturing Talent for a New Phase of Globalization
In recent years, Guangdong has been cultivating talent and promoting innovative development of free trade areas. The young people will head to the world-class urban cluster of the Guangdong-Hong Kong-Macao Greater Bay Area to see the development achievements of Nansha District. They will also visit the Nansha Guangdong-Hong Kong-Macao Youth Entrepreneur Hub to have a discussion with young entrepreneurs in Hong Kong and Macao and learn about life there and entrepreneurial activities.
Young people will also visit Shenzhen Talent Park to see how this city attracts top talent with a first-class environment and its determination to cultivate global talent. Participants will discuss the future development trend of international talent.
To explore the achievements of reform and opening-up and globalization, the young leaders will go to the Shenzhen Reform and Opening-up Exhibition Hall and watch the theme show of "Great Tides Surge Along the Pearl River–40 Years of Reform and Opening-up in Guangdong". Six Shenzhen people from different areas will share their insights on the development of this city and their personal stories. The young leaders will get a chance to exchange with them and explore a new round of globalization.